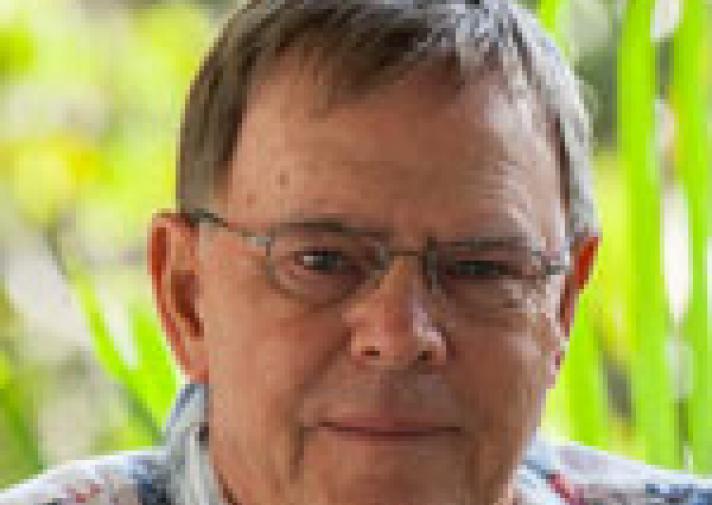 A Beautiful Irony
In this story, featuring two proposed Malaysian projects, Tony Nielson discusses the link between the recent changes to Australia's National Construction Code (NCC) and new opportunities for engineered wood products.
---
A BEAUTIFUL IRONY
Timber construction gets a lift in Southeast Asia
By Tony Nielson - ex editor of timber+DESIGN Magazine
Oscar Wilde contended that irony was wasted on the stupid, but you would have to be seriously dense to miss the paradox associated with the following timber design story I picked recently in Malaysia.
For decades, the use of timber in Malaysian construction projects has been strangled by the combined effect of bank reluctance to lend because insurance companies won't cover a perceived – but erroneous – higher fire risk as against steel and concrete.
Then, earlier this year came a sardonic twist: manna from heaven, you might say; more the result of smart strategic thinking and good marketing, I suspect. Either way, the story I'm sure you are dying to hear is a mix of pure irony and serious commercial importance.
Remember I mentioned the 'fire risk' perception being the major impediment to timber construction? Well, the Malaysian Ministry of Housing (MOH) has just done something significant to rectify that misconception. It backed a 'mission' of public sector movers and shakers to New Zealand and Australia to see glulam and CLT construction first-hand. And perhaps more importantly, to watch independent charring tests of glulam timber under extreme fire conditions.
In the Malaysian party was a senior fire department official, apparently openly skeptical about any kind of large dimension timber construction, and glulam in particular. But not anymore, it seems!
According to Asmadi Muhammad, an architect friend and CEO of engineered wood start-up MyGlam, plans are well advanced that will see four Malaysian fire stations – yes, fire stations – built or refurbished using glulam beams.
When I caught up with him at the MIFF furniture show in Kuala Lumpur in March, he said the details were still being worked through. "But this is the first major step to going into glulam here on a big scale. The main issue with wood in Malaysia has always been the misconception about fire resistance, but now that we have tackled that through independent analysis, there is no reason for glulam timber not to be used extensively."
(By August, the MOH was appointing consultants for the construction of the glulam fire stations and a new wet market.)
These developments are of great importance to the engineered tropical wood industry and follow several years' research, technical missions to Australia, New Zealand, Scandinavia and the UK, and fire resistance testing of Malaysia's construction species.
The independent analysis to which Muhammad referred was a fire test of several tropical hardwood species by the Australasian building research agency BRANZ to determine their relative charring rate when exposed to proven fire test conditions. (BRANZ FT 5430, 8 August 2014.)
The glulam beams of five different species were each positioned side-by-side, attached to the underside of a concrete slab and 'cooked' for 77 minutes. The average char rate ranged from 0.59 mm/min for dark red meranti to 0.50 for mengkulang – a medium hardwood sometimes known in Australia as red or brown tulip oak.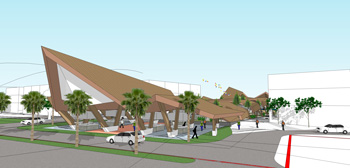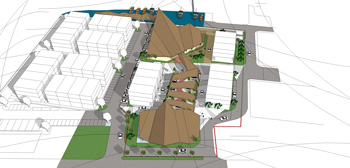 Concepts for a proposed large dimension glulam roof structure above a new 'wet' and 'dry' market in Sabah
Mengkulang is a logical choice for the fire stations, and for several other facilities, including a long-span glulam pedestrian bridge near Kuala Lumpur and 'wet/dry' market in Sabah. The superior gluing properties of the species came to light in 1977 when the Forest Research Institute Malaysia (FRIM) built a glulam mosque on its campus, and it continues to perform well.
"All the research has been done, we have all the data and are very comfortable with the wood, which is readily available and certified sustainable," says Malaysian Timber Council industry development director Hamidah
In a related development, site work for Malaysia's first hardwood glulam pedestrian bridge begins in September. It will span 43 m across a sensitive wetland and weir at the city of Putra Jaya, about 25 km south of Kuala Lumpur. The H3 LOSP-treated mengkulang glulam will have UV protection but otherwise left to weather.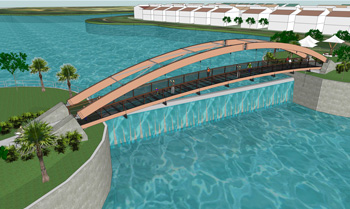 PUTRAJAYA BRIDGE - Malaysia's first hardwood glulam pedestrian bridge at Putra Jaya will open in September 2016
I've highlighted these projects because, in the Malaysian context, they represent advances every bit as important as Australia's new National Construction Code (NCC), with all of its positive spin-offs for multi-storey timber architecture. The NCC is expected to simplify the process of building mid-range multi-storey buildings with timber framing, or massive timber as the dominant structural material.
For more information on the NCC, go to: http://makeitwood.org/documents/doc-1384-woodsolutions-code-change-brochure.pdf