⩥Online Training Course- Understanding AS1684.2: Australian Residential Timber Framed Construction - Organized by Timber Queensland
Tuesday, March 23, 2021 -

10:00

to

12:30
---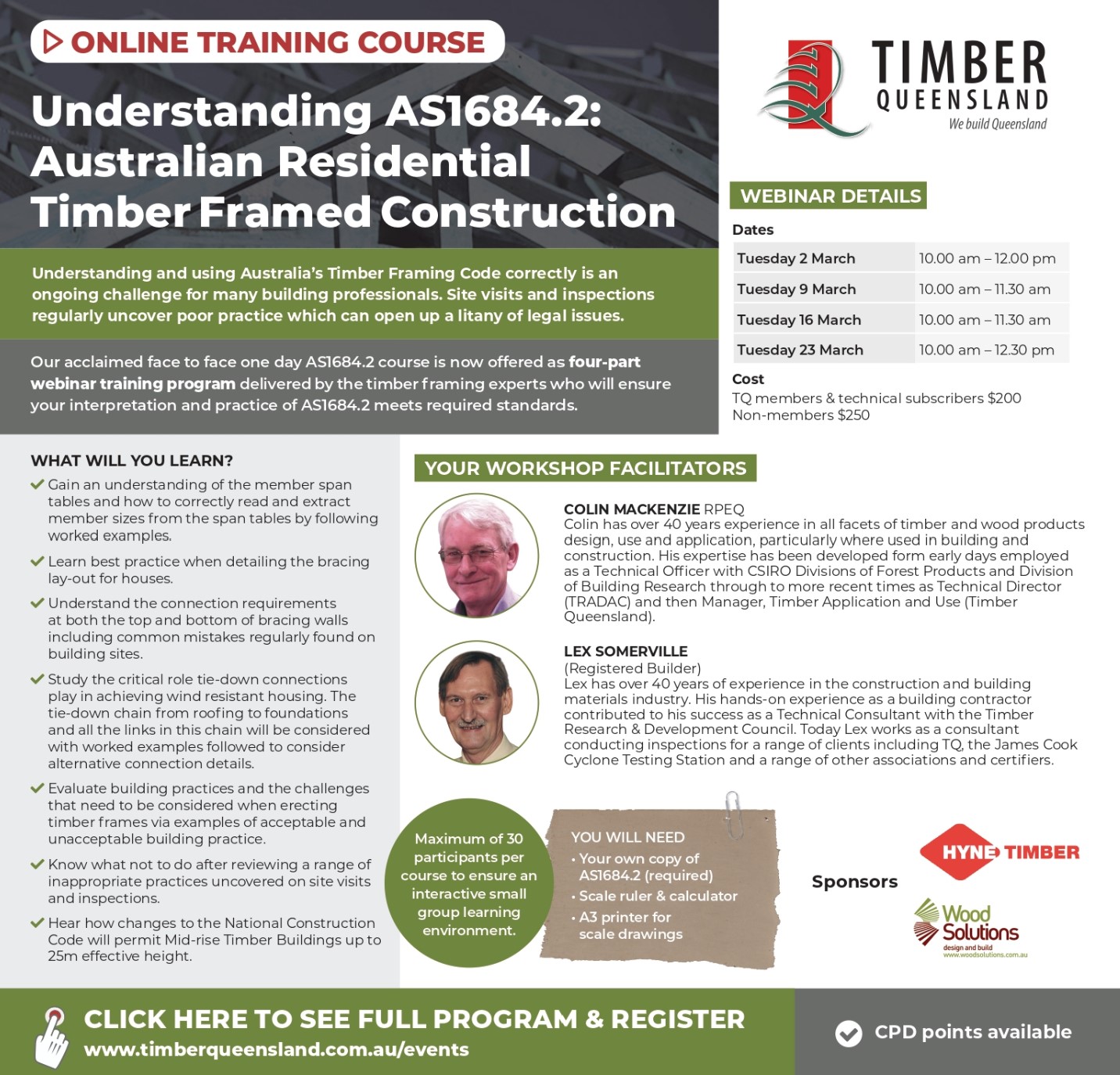 Understanding and using Australia's Timber Framing Code correctly is an ongoing challenge for many building professionals. Site visits and inspections regularly uncover poor practice which can open up a litany of legal issues. 
The acclaimed face to face one day AS1684.2 course is now offered as a four-part webinar training program delivered by the timber framing experts who will ensure your interpretation and practice of AS1684.2 meets required standards. 
---
This online training course will take place over 4 sessions via the Zoom webinar platform:
Tuesday 2 March 10.00 am – 12.00 pm
Tuesday 9 March 10.00 am – 11.30 am
Tuesday 16 March 10.00 am – 11.30 am
Tuesday 23 March 10.00 am – 12.00 pm
Important information regarding registrations:
A maximum of 30 participants will be taken per course to ensure an interactive group learning environment.
Maximum of 2 staff members per company (whether member or non-member) may register.
After registering, Timber Queensland will send through a confirmation email with webinar details and links.
---
WHAT WILL YOU LEARN?
Gain an understanding of the member span tables and how to correctly read and extract member sizes from the span tables by following worked examples. 

Learn best practice when detailing the bracing lay-out for houses

Understand the connection requirements at both the top and bottom of bracing walls including common mistakes regularly found on buildling sites 

Study the critical role tie-down connections play in achieving wind resistant housing. The tie-down chain from roofing to foundations and all the links in this chain will be considered with worked examples followed to consider alternative connection details

Evaluate building practices and the challenges that need to be considered when erecting timber frames via examples of acceptable and unacceptable building practice

Know what to not to do after reviewing a range of inappropriate practices uncovered on site visits and inspections

Hear how changes to the National Construction Code will permit Mid-rise Timber Buildings up to 25m effective height