AIBS - Victoria Chapter Professional Development Day
Thursday, April 29, 2021 - 08:00
---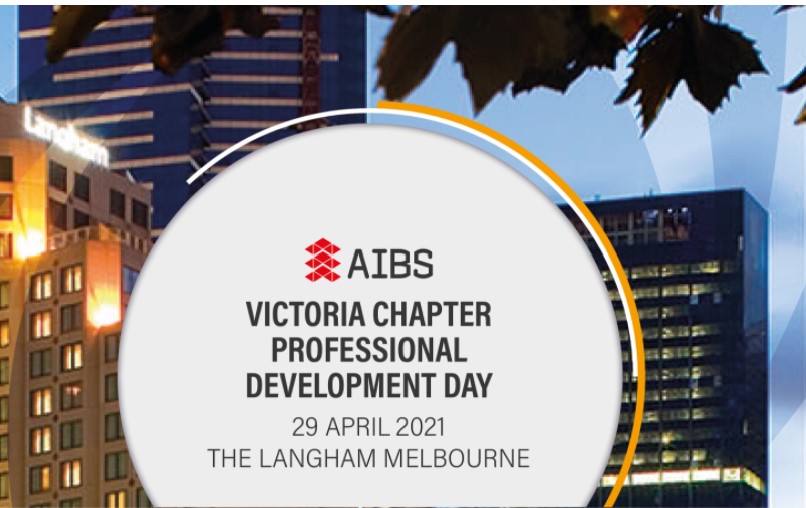 The AIBS Victoria Chapter Professional Development Day will be held on Thursday 29 April at The Langham Melbourne. 

This is a not to be missed event for anyone in the building surveying industry. With this comprehensive program including both technical and practical content, there will be something for everyone. This training event will allow delegates to not only learn valuable skills that they can put to use in their profession but it also offers unparalleled networking opportunities with delegates, speakers and AIBS staff.  
6 CPD Points will be awarded for the 2021 Victoria Chapter Professional Development Day. 
---
Speakers
David Bell is currently the Construction Market Manager for InfraBuild Steel, based in Sydney.
Nic Carr  has operated as a consultant in his own business and in association with TPPG Pty Ltd working with boards and businesses in developing strategies, formulating governance frameworks and providing advice on management/governance systems and procedures.  He has also worked with businesses as a facilitator including strategic planning, performance reviews and risk reviews.
Boris Iskra is the National Manager – Codes & Standards for Forest & Wood Products Australia where his role is to coordinate the development and review of Australian timber standards, and associated building standards and codes, on behalf of the National timber industry. 
Dr Tim Law is principal of Archsciences and an architectural scientist: one who studies into how to make buildings perform and why they fail. His special interest and expertise is around condensation and mould in buildings, and the impact of the building microbiology on health. He has undertaken condensation research work for the Tasmanian building regulator and the ABCB in the scoping study on condensation. His research work underpins some of the new condensation provisions in the NCC.
Wayne Liddy is a Director of the Gardner Group Pty Ltd, A Fellow, Vice President and Board Director (Victoria) of the AIBS. He has been a past Chapter President, has been an executive member of the AIBS since 2005 and is currently the AIBS nominated representative  on the  Building Advisory Council. He is the former Chair of the National Technical Committee and also served as  a member of the National Education Committee and the Building Practitioner's Board, Victoria. 
Brett Mace joined the AIBS in May 2013 and became CEO in September 2013 bringing 25+ years professional management experience in both the commercial and not-for-profit sectors. Brett's background has been primarily in sport first as a Physical Training Instructor in the Royal Australian Navy, before undertaking a number of management roles at state, national and international level.
Stephen Scimonello has a background in education, building surveying and planning. He is a registered building practitioner in the category of building surveyor – unlimited with the Victorian Building Authority for over 17 years and is a Certified Practicing Planner and Corporate Member with the Planning Institute of Australia.