Midrise Timber Masterclass | Timber Portal Frames Design
Thursday, January 28, 2021 - 11:00
---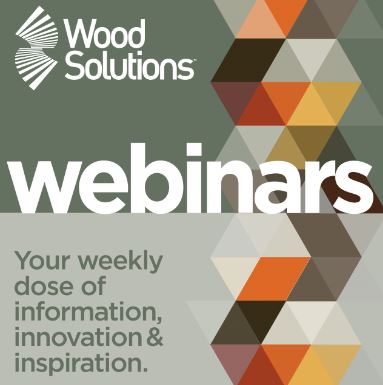 Description
Timber portal frames are one of the most favoured structural applications for commercial and industrial buildings whose functions necessitate long spans and open interiors. Timber portal frames offer a strong, sound and superior structure. Structural action is achieved through rigid connections between column and rafter at the knees, and between the individual rafter members at the ridge.
Timber portal frames have applications from small size structures to large span single-storey buildings. Often overlooked solution for low-rise buildings, timber portal fames offer many benefits, such as ease of installation, readily available materials and cost advantages. 
The webinar's presenters are the experts in their respective field; George Dolezal has developed a domestic portal frame system that is ideal for a high lateral situation in low to mid-rise buildings. Rob Nestic on the otherhand, has tremendous experience in large portal frames, seen with the 20,000 m2 industrial shed designed for Meyer Timber in Penrith, Sydney.
To be presented by George Dolezal – Meyer Timber and Rob Nestic - TGA Engineers
Speakers
George Dolezal - Principal Engineer at Meyer Timber
George has over 22 years experience in structural timber design, commencing as a design engineer at Pryda, followed by Market Engineer at Carter Holt Harvey Woodproducts and the last eight years at Meyer tImber.
George has developed a number of wood-based products for the Australian housing market, ad more recently domestic portal frame systems for housing.
Rob Nestic - Director at TGA Engineers
Rob has over 27 years of experience in timber structural design and fabrication. After graduating from Monash University, Rob pursued his love of timber both conducting research and publishing literature on engineered wood products, and regularly presenting at seminars and conferences.  His love of timber has continued as he spent time designing, fabricating and installing unique timber projects, including prefabricated, panelised houses, large post and beam structures,  curved timber dome, and residential timber-concrete-composite flooring systems.
---
Catch up on what you have missed! We record every webinar. 

---
By registering for this free WoodSolutions webinar you agree to having your details added to the WoodSolutions database. They will not be sold or shared with any other organisation. You can read the WoodSolutions privacy policy here: https://www.woodsolutions.com.au/page/privacy-policy.

After you have been added to the WoodSolutions database, you will receive an email asking you to confirm your registration and set a password. Should you wish, you can opt out at this stage.

As a registered user you will be able to download WoodSolutions technical design guides, fire test reports, other publications, view recordings of past webinars