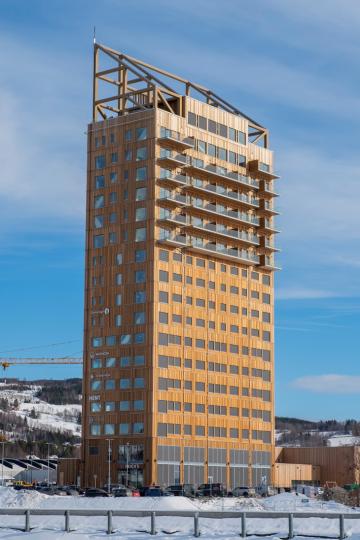 Submitted by

100content@gmail.com

on Thu, 16/07/2020 - 13:29
A visionary developer asked the designers and suppliers of the successful 14-storey "Treet" tower completed in 2015 in Bergen to take a step further, using a timber façade and adding an hotel and offices to residential tenancies.
At 85.4 meters, Mjøstårnet is currently the world's tallest full-timber building. And, most importantly, it is an amazing mix of technical excellence and dedicated craftmanship, where Norwegian skills for sustainable and safe innovation find a perfect equilibrium.
Glulam is the main structural component, complemented by other engineered wood products to optimise a full-timber design that will withstand the test of time in the highly-variable Scandinavian weather.
Learn from the Rune Abrahamsen, CEO of Moelven Limtre (who was also the structural engineer of the Treet) and Leif Tore Isakson, Sweco's fire engineer for both these projects how they addressed the many issues and collaborated to deliver a developer's dream, without exceeding his budget and timeframe.
Series
Free weekly webinars, every Tuesday at 11am AEDT
Episode transcript
Question

Answer

Can the durability of CLT be relied upon for an external application, ie, upper floor balconies?

Yes, there are many examples of appropriate design of balconies, see for instancehttps://www.woodsolutions.com.au/articles/demonstration-model  

In Eurocode 5, timber connections can only achieve, how did you achieve 120 minutes?

One of the columns was tested with connectors inside. Char rates, and temperatures of the connectors were determined by the column fire tests and applied to the connections to ensure the temperature at the connections were kept below 200degC trough a burnout.  Intumescent strips were also used to fill and gaps and provide additional protection to the connections.

What was the cross section of the test column, where the temperature in the centre never exceeded 40 degrees?

Test columns were 500x500mm in cross-section.

Why the concrete slab is not installed in Hotel floors as well? Is that because the lateral deflection at that levels are not that big (still comfortable for the guest)? How about the vibration and insulation between the Hotel floors and other lower levels?

The project's ambition was to use as much wood as possible. Concrete slabs were only installed in the upper floors because that is where the extra weight has the most effect on the dynamics. It was not needed to apply more weight in the hotel floors to comply with the comfort criteria.  The wooden cassette system (Trä8) was used between hotel floors and lower levels, and this is a very stiff and well insulated deck. It performs much better than CLT-decks, but on the other hand it is also more expensive.

How is the building waterproofed at the interface between the external balconies and the internal rooms?

The balconies are supported by a steel structure that is attached by brackets to the timber structure behind the external cladding. Water cannot flow from the balcony to the wall or inside the apartment. There is also a water collecting system that leads the water to the ground.

Was the building modelled in Robot using typical properties/sections or user-input data?

It was modelled using properties of glulam GL30c. The cross sections were user-input data.

We have found that the effect of the sun on glulam beams causes them to twist slightly, modifying the dimensions of the cuts for steel connections.  Did that happen also in your project?

No, this did not happen. Bear in mind that the sections are rather large, so twisting them is not a problem. For smaller size glulam beams this can occur.

Did the project team measure the embodied carbon of this project and compare to a conventional construction of the same size?

No, we did not do that.

What is the floor cassettes support type? Top chord bearing or with brackets onto beam/bearer?

The floor cassettes come with an LVL plate on top. This plate cantilevers about 150 mm, like a lip along the supporting edges. This lip is supported by an underlying glulam beams along the element's length. The lip is screwed to the glulam to handle horizontal shear forces.      The result is that the depth of the cassette comes in the same height as the supporting beams - thus saving some building height.

How does the sprinkler system work if power is cut during a fire?

Sprinklers are designed with increased reliability (EN 12845 Annex F, OH3, double water supply, and quick response sprinkler). The sprinkler pumps are secured with emergency power supply to insure that sprinkler still works if the power in the building is cut. The building has also been designed to resist burnout.  The sprinklers are used as the first line of defence to attack the fire and minimise the potential for a large fires to develop.

Why only 2 hour fire protection not 3 hour (mixed use equates to higher risk) ?

Norwegian building regulations require 1,5 hour fire protection in buildings with more than 8 floors. In this project we have designed the constructions to resist a burnout in the actual building (complete fire as it can be modelled).

What type of fire retardants are best for the cold timber elements ?

In Australia, we cannot use timber fire-retardant timber cladding externally on mid- and high-rise buildings.

What emissivity did you use?

Rune comments: I believe this is for Leif to answer. I understand this as emissivity of heat in the fire situation. I need some more details to answer this question

I like and appreciate the design philosophy to avoid collapse throughout burnout and those burnout tests are super interesting. Have there been tests/experiments with sustained load and a long duration fire (+cooling phase) to validate the chosen fire design approach? Or was the zero-strength layer modified beyond the recommended 7 mm? I don't think the reduced cross-section method would be appropriate for the large columns in a building like this. The 'standard' reduced cross-section method uses a 7 mm zero-strength layer that was derived from a limited number of bending tests in the 80s. Compression is affected more by heating than tension. The Advanced Calculation Method in Annex B of Eurocode 5 would be more appropriate.

The test was performed without sustained load. The size of the columns were not really governed by the fire design, but by the dynamic design in order for the building to be stiff enough. This means that there is extra capacity in the fire situation. The structures are designed to resist long duration fires, Sweco have done calculations with reduced capacity from the increase of temperatures in the wooden structures

In long timber spans like the conference room, would it be possible to tackle footfall-induced (vertical) vibration with a deep timber floor solution?

The conference room on floor 17 has a concrete floor, but it should be possible to handle the vibrations with a timber cassette deck and a somewhat heavier screed on top

Seems we have plenty of timber in Australia but no prefabricated timber construction for high rise. We have laminated beams but they are just cut to suit on site. We won't achieve embedded emissions reduction if we just import. Do we need investment in regional precision fabrication facilities?

We have significant prefabrication facilities already, and obviously offer follows demand, so the best way to increase regional prefabrication facilities is to specify more timber structures. Emission reductions are best achieved with local suppliers, but also imported timber has significantly lower carbon footprint than other construction materials.

Did you consider the possibility of failure of the plasterboard protection in your burnout scenarios? How robust was the plasterboard protection in this design?

Plasterboard failure, or gross defects, is considered as part of any probabilistic design as it should for all building materials.  Plasterboard fixing length and spacing crucial to the robustness of the plasterboard.

Is there anybody other than Xlam and LendLease who have done the FR for CLT and Timber Beam

Australian Sustainable Hardwoods have undertaken 2 hour timber beam and column testing to AS1530.4

Can you describe the relationship between the design model (BIM) and fabrication process?

The BIM-model was used as a basis for producing shop drawings and CNC-files for the production. Traditional 2D-drawings of the structure were not made.   The BIM-file (IFC) was imported into Cadworks for further processing into files that our robots can read

What stage in the design process does the carbon footprint analysis occur?

It is possible at any stage. For your calculations, please refer to the standardised and independently verified WoodSolutions EPDs at https://www.woodsolutions.com.au/articles/environmental-product-declarations  

What water repellent tests were carried out on Glulam? What were the test results?

No water repellent tests were done. We know from many years of experience that very little water can absorb into glulam except through cross section. So, our focus was to protect the cross section with temporary plastic covers.

What management plan or strategies to deal with the water wetting the indoor surfaces if the sprinklers are activated? 

I do not believe there is a plan for this. If the sprinklers are activated by accident a bunch of water vacuum cleaners is required, I think.

does the firestopping in the facades, besides vertically dividing the facades prefab components @ floor lines, divide the façade horizontally to limit horizontal fire spread

There are no requirements from Sweco to limit horizontal fire spread, in each element. The design of the facade-elements with horizontal claddings, and the connections between the different elements will anyway ensure some kind of protection

Did the team run an embodied carbon calculation on the project to understand how it compares to standard practice construction in Norway?

No, the team did not do that. The client did not want us to spend hours on investigating something which is obvious, he said.

How thick/deep were the concrete floors at the upper levels - only for weight or also for structural bracing?

The concrete floors are 300 mm thick. This is necessary for weight and dynamic behaviour, but once the concrete floors are there they also contribute to transfer horizontal forces into the glulam trusses.

Were all the Large H frames built at site - there was enough room??

Yes, the large frames were assembled at a space within the lifting range of the tower crane.

How was axial shortening of the columns handled? What was the variation in shortening  in the building?

All columns have grain direction vertically, so the actual shortening due to compression is very small and was ignored. The columns were put on top of each other face to face - without any horizontal steel plates or timber perpendicular to grain. For a general description of shortening and a calculation method, see WoodSolutions Technical Design Guide #50.

What type of fire treatments were used on the wood elements - wall, floors, glulam?

The wooden panels on the facade were pressure treated with a fire retardant. The floors have a double layer of gypsum on the bottom side. The glulam in emergency routes and open areas were treated with a fire retardant oil (3 layers + sealing layer). One of the stairwells is protected with gypsum as well.

With the extra deadload being required on the upper levels, what other flooring system options were considered other than concrete? I would imagine bringing another group of trades and materials would have been expensive and may have slowed construction.

No other flooring system than concrete was considered at the top. There were many discussions regarding which type of concrete system to use. It ended up with a mixed solution where the bottom 130 mm is prefabricated and the top 170 mm is cast in place. In this way the prefabricated bottom part could act as formwork without scaffolding.

What was the seismic load for the building vs wind load (assuming wind was governing)?

The wind load was governing by far. There is not much seismic load in Norway, and seismic calculations were omitted

Did you have any issues with tolerances for connections? From your presentation I take that it was fine?

No, not really. The precision we get from the CNC machines is outstanding!

With the charring reliance concept, does this mean it's a throw away building (post a fire) if the worst case plays out such as sprinkler failure, assuming the charring is factored in and assumes sprinkler failure as part of the fire safety design?

The charred layers can be removed and surfaces cleaned.  A new layer of timber can then be glued to the surfaces to reinstate the protective pre-char layer required to achieve the 2hr fire rating.

What considerations/processes/measurements were applied to manage possible wet events (rain, snow etc.) during construction?

We had about 20 spots throughout the building were we measured the moisture content inside the timber members regularly (weekly/monthly). Measuring the moisture content on the surfaces makes no sense, since this changes with the weather and seasons constantly.  The columns were protected with temporary plastic covers on top to prevent the glulam from soaking up too much water through the cross section.  On the sides no protection was needed, because the moisture hardly gets in there.   For the CLT-elements we protected the exposed cross section on the plate edges.

Are there any post construction moisture monitoring?

Not anymore. The building was opened long time after the last timber structures were installed, and by then the moisture content of the wood had stabilized at a low level (15% or less)

How is the CLT balcony connected to the main structure and what is the fire behaviour of this connection  ?

The balconies are supported by a steel structure that is attached by brackets to the timber structure behind the external cladding. The steel parts are fire coated to 60 mins. The balconies' underside s are painted with a fire retardant.

I didn't get a sense of how much of the building was sprinkler protected.  A one point it sounded as though additional sprinklers were added to balconies on the lowest 2 storeys, but then sprinklers weren't mentioned in the second part of the presentation.  Did they include sprinklers to all 18 storeys?

All 18 storeys are sprinkler protected. In addition, certain areas of the façade are sprinkler protected as well (the balconies and the two first levels) to avoid external fires

Why GLT rather than LVL… and how is diaphragm action ensured in a timber cassette floor?

We are a glulam manufacturer, so it is natural for us to choose GLT over LVL. Furthermore, LVL is more susceptible to rain and snow, and that would have led to problems with our construction method. GLT is much more dimensionally stable than LVL is when it comes to moisture.   The diaphragm action of the cassette floors is ensured through the LVL top plate which is heavily screwed to the supporting glulam beams.

Was charring enough to achieve the 2hr fire rating, or was charring only relied upon to ensure the building survived after the 2hr evacuation?

The Norwegian building code requires that main loadbearing system are dimensioned in order to maintain satisfactory capacity and stability trough a burnout. This means that the fire rating of the constructions will insure the building still standing after a complete fire. We have used the results from the test to verify the charring rates, and better understand what actually happens in the decay period of the fire, but the design is actually based on Eurocodes.

For the timber cassette floor was the flooring material designed to act as part of composite timber beams?

No, it was not. The flooring on top of the cassettes (screed and parquet) is not a part of the cassette structure, but the flooring is important to handle the acoustic and vibrational requirements.

Did the fire design consider "what if the sprinklers fail to operate?"

Yes, that is why they consider burnout fires, meaning all moveable fuel is consumed.

Apologies if I missed this in the presentation, but how was the combustible facade justified?

Norwegian codes allow wooden materials in the facade. In this project the building is protected against fire spread in the facade as follows:
- Facade B-s1,d0 (difficult to combust, low smoke production, no burning droplets)
- No combustible insulation materials, only A2-s1,d0
- Certain areas of the façade are sprinkler protected (The balconies and the two first levels).
- Firestop in the cavities of the external façade. Vertical gaps are thus closed for each floor. In addition there are fire stops over the windows to further reduce the chance for fire spread in the façade.

How do you recommend that the charred columns/braces be repaired to reinstate their structural integrity after a fire scenario?

The charred layers can be removed and surfaces cleaned.  A new layer of timber can then be glued to the surfaces to reinstate the protective pre-char layer required to achieve the 2hr fire rating.

Why having the concrete slabs at the top and not the bottom of the structure?

This is governed by the dynamic design. The higher up you put the mass - the more you slow down the movements in the building.

How was the concrete connected to the timber members?

There were holes in the concrete slabs spaced 200 mm where we could insert big timber screws into the glulam. Later on these holes were filled with concrete to make a proper shear connection