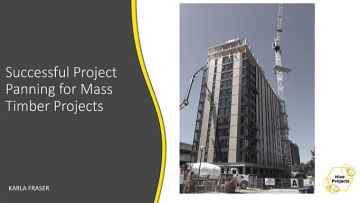 Submitted by

100content@gmail.com

on Fri, 18/12/2020 - 14:37
Careful and detailed planning, including utilising 4D software, allows mass timber projects to come together on time and on budget. Our international guest presenter Karla Fraser won the Wood Works Technologist award in 2018 for her achievements working on the amazing UBC Brock Commons project, an 18-storey hybrid mass timber building. Karla is passionate about mass timber builds, which she believes will be the exciting future in the evolving environmentally sustainable building and construction sector.
Join Karla as she discusses the key planning and construction considerations that help to inform the design decisions when putting together a mass timber project, illustrated through a number of the Canadian mass timber projects that she has been involved with.
Karla Fraser, Director of Construction @Hive Projects Inc. and Cape Group, Vancouver, Canada
With 27 years of experience working in the construction industry, Karla started her career as a surveyor and equipment operator before attaining a Civil Engineering degree at The Southern Alberta Institute of Technology (SAIT) after which she specialised in building contracting and construction in Vancouver. She has worked on a wide range of infrastructure, commercial and tower projects, including one of the world's leading Tall-wood projects the UBC's Brock Commons student apartment building.
Series
Free weekly webinars, every Tuesday at 11am AEDT