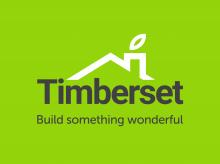 Timberset Systems Pty Ltd
Timberset is a Geensmart accredited builder of energy efficient homes, granny flats, cabins and specialty buildings. Made primarily of responsibly sourced plantation timber, Timberset homes are unique and beautiful. Just as in the forest, a home made of solid timber breaths, absorbing moisture when it's damp, and releasing it back into the atmosphere when dry. Solid timber walls insulate occupants from noise and external temperatures, whilst inside occupants reconnect with nature, enjoying a harmonious and relaxing environment. What's more, a Timberset home is a carbon store for life!
Match these attributes with sustainable design features, efficient prefabrication, and numerous cladding options, and the result is a home that looks great, is kind on the environment, and takes care of you and your hip pocket.
Business Type
Service Categories
Architecture & design
Building construction
Carpentry
Services