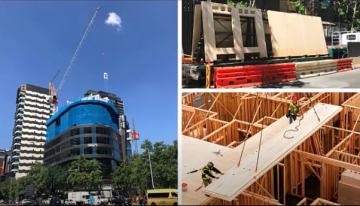 Submitted by

100content@gmail.com

on Wed, 17/02/2021 - 15:11
In the last few years, several hotels have been built using timber – Wildlife Retreat at Taronga, Elizabeth Street, Sydney, 55 South Bank, Melbourne, Adelaide Oval Hotel, and Iron Creek Bay Farm Stay, to name a few. Each project is unique in their own right, using timber because of an advantage that timber gave to the completed project. This webinar will look at hotel building design by investigating the attributes that lend themselves to timber use. The webinar will also look at the structural design of a timber hotel from the structural engineer and a builder's perspective. Issues such as detailing, supply, and material access all play a part in a successfully designed and executed project.
Presenters are Rob De Brincat, Business Development Manager at Icon and Nathan Benbow from Vistek Structural and Civil Engineers. Both speakers have extensive knowledge of the design and construction of significant timber projects.
Series
Occasional Thursday free webinar series on selected timber topics