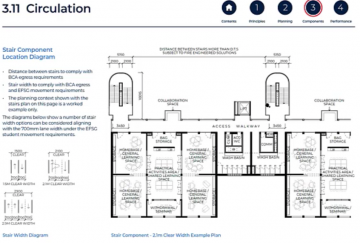 Submitted by

100content@gmail.com

on Wed, 24/02/2021 - 16:52
School Infrastructure NSW and Woods Bagot in conjunction with a team of consultants recently developed a set of guidelines to enable the application of DfMA (Design for Manufacture and Assembly) construction methodologies to schools across NSW. These construction methods include either volumetric construction or 'kit-of-parts' component-based structures. The primary target for the kit-of-parts construction is the use of Cross Laminated Timber (CLT) as a sustainable, healthy and modular material. However, this doesn't preclude the ability to implement traditional materials such as steel and concrete or a hybrid mix. This webinar is to be presented by the team that developed this guide, and they will discuss how timber, if it stacks up, can be used within the school building program.
Presenters are:
Adam Taylor and Megan Boazman - School Infrastructure NSW
Ian Lomas - Woods Bagot
Barry Young - TTW
Richard Smith – MBM
Series
Occasional Thursday free webinar series on selected timber topics