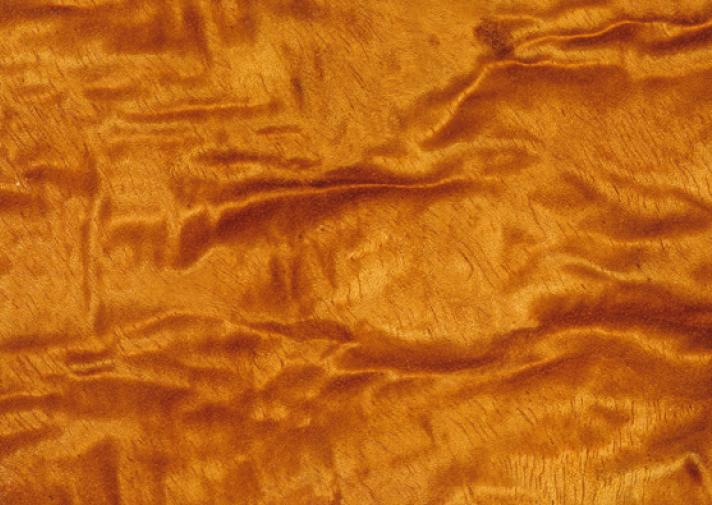 Maple, Queensland
Queensland maple is an Australian hardwood prized for its attractive wavy or curly grain, ideal for decorative furniture and musical applications.
The attractive Queensland maple has long been appreciated as a shade tree for Australian parks and gardens and also for its striking pink wood, which adorns many heritage homes and distinctive wood pieces. It flourishes in the northern Queensland rainforests between Townsville and the Windsor Tableland. With these areas now heritage protected, maple wood is harder to source, although it is still prized for use in furniture and fixtures.
The lustrous sheen of the pink to brownish pink heartwood makes for a distinctive tree. Historically, it was widely used for aeroplane propellers, coachwork, carriages, and boats. It was also popular for picture frames, and for musical instruments components such as guitar necks and piano parts. 
Queensland maple is not susceptible to lyctid borer attack. Termites can be a challenge and there is also the threat of attack by an insect that calls this distinctive species home. The insect's destruction to the living tree can leave areas of dark coloured soft tissue, giving dressed surfaces a dimpled appearance – a feature rarely seen in the pretty wood sought for furniture or high-value decorative uses. Such pieces are enhanced by a distinctive grain that is somewhat interlocked and often wavy or curly, but with a medium and uniform texture. On quarter sawn boards, the maple exhibits water wave, rib and birdseye figures.
The living maple does not record its age with growth rings. It appears as a medium-sized tree of up to 40 metres in height and 2.5 metres in stem diameter. The trunk is usually well formed, circular in cross-section and not buttressed. The bark, which is approximately 12mm thick, is grey to brown. It has fairly distinct longitudinal fissures. In older trees these fissures are not so marked owing to a tendency to scaliness. The maple has a medium durability.
Appearance
A shade tree with striking pink wood, the Queensland maple's pink to brownish pink heartwood makes for a distinctive appearance that finishes well. The narrow sapwood band is coloured white to pale grey. Its texture is medium and uniform with a variable grain, sometimes featuring interlocked, wavy or curly fibres.
Common Applications
The Queensland maple has a place in Australian history, having been used for general building framing around the early 1900s, and more commonly in flooring, lining mouldings and joinery. Maple has also featured prominently in light boat building for planking, decking, sawn frames, stringers, chines, gunwales and marine plywood.
Australia's heritage and restored transport has been the destination for much maple, where it has been shaped into aeroplane propellers, coach, vehicle and carriages. It has also been prized for draughtsman's implements, gunstocks, musical instruments and walking sticks. Today, it is used more commonly for distinctive furniture pieces, plywood, shop and office fixtures, joinery, turnery, carving, inlay work and picture frames.
Common Form
Sawn
Workability
Queensland maple wood is pleasant to work with, machining and turning well to a smooth surface. Pieces made from maple are often appreciated for their appearance, and will readily accept stain, polish and paint. It is easy to nail and glue but does tend to buckle, making it unsuitable for bending. No difficulty has been experienced with the use of standard fittings and fastenings and it can be satisfactorily bonded using standard procedures. 
Origin of Timber
Availability - Further Information
Heritage listing of the North Queensland rainforests has made availability of the Queensland maple very limited. The timber may be available in limited quantities from stockists in metropolitan areas.
Availability - Further Information
Shrinkage
| | | | | | |
| --- | --- | --- | --- | --- | --- |
| | Very Low | Low | Medium | High | Very High |
| | | | | | |
| Tangential : | | | | | |
| Radial: | | | | | |
| Unit Movement Tangential: | | | | | |
| Unit Movement Radial: | | | | | |
Strength Group
Very High

High

Reasonably High

Medium High

Medium

Reasonably Low

Low

Very Low

Unseasoned:

S1

S2

S3

S4

S5

S6

S7

Seasoned:

SD1

SD2

SD3

SD4

SD5

SD6

SD7

SD8
Stress Grade
Structural
No. 1
Structural
No. 2
Structural
No. 3
Structural
No. 4
Structural
No. 5

Unseasoned:

F8

F7

F5

F4

Seasoned:

F14

F11

F8

F7

F5
Density per Standard
Seasoned:

Unseasoned:
Joint Group
Very High

High

Reasonably High

Medium

Low

Very Low

Unseasoned:

J1

J2

J3

J4

J5

J6

Seasoned:

JD1

JD2

JD3

JD4

JD5

JD6
Colour
White, yellow, pale straw to light brown
Pink to pink brown
Light to dark red
Brown, chocolate, mottled or streaky
Mechanical Properties
| | |
| --- | --- |
| Modulus of Rupture - Unseasoned: | |
| Modulus of Rupture - Seasoned: | |
| Modulus of Elasticity - Unseasoned: | |
| Modulus of Elasticity - Seasoned: | |
| Maximum Crushing Strength - Unseasoned: | |
| Maximum Crushing Strength - Seasoned: | |
| Impact - Unseasoned: | |
| Impact - Seasoned: | |
| Toughness - Unseasoned: | |
| Toughness - Seasoned: | |
| Hardness - Unseasoned: | |
| Hardness - Seasoned: | |
Durability
| | | | | |
| --- | --- | --- | --- | --- |
| | Low | Moderate | Reasonably High | High |
| | (0 - 5 yrs) | (5 - 15 yrs) | (15 - 25 yrs) | (more than 25 yrs) |
| In-Ground: | | | | |
| | (0 - 7 yrs) | (7 - 15 yrs) | (15 - 40 yrs) | (More than 40 yrs) |
| Above ground: | | | | |
| | (0 - 20 yrs, usually < 5) | (21 - 40 yrs) | (41 - 64 yrs) | (More than 60 yrs) |
| Marine Borer Resistance: | | | | |
| | |
| --- | --- |
| Lyctid Borer Susceptibility: | Not Susceptible |
| Lyctid Borer Susceptibility - Other: | |
| Termite Resistance: | Not Resistant |
Fire Properties
1 - non-combustible
2 - reasonably non-combustible
3 - slightly combustible
4 - combustible

Fire Properties Group
Number:
| | |
| --- | --- |
| Group Number - Other: | 3 if used on MDF or particleboard ≥12mm; veneer thickness 0.6-0.85mm |
| Average Specific Extinction Area: | |
| Bushfire Resistance: | |
Timber portal frames are one of the most favoured structural applications for commercial and industrial buildings whose functions necessitate long spans and open interiors. As a material choice, timber offers designers simplicity, speed and economy in fabrication and erection.
Timber portal frames offer a strong, sound and superior structure. Structural action is achieved through rigid connections between column and rafter at the knees, and between the individual rafter members at the ridge. These rigid joints are generally constructed using nailed plywood gussets and on occasion, with steel gussets.
From material selection to finishing, this application guide provides a comprehensive overview of the process of using timber in the specification, fabrication and erection of portal frame structures.
Whether for structural or finished flooring applications, timber offers durability, versatility and adaptability. The warmth, strength and natural beauty of timber flooring has proved enduringly popular in a wide variety of interior settings.
Timber flooring is a timeless product, offering a warmth and natural beauty largely unmatched by other flooring options. This article provides an overview of the installation of solid timber strip flooring over bearers and joists, timber based sheet flooring products and concrete slabs. Timber flooring is typically supplied as either solid timber or laminated wood products, made from layers of bonded timber. It fits together with a tongue and groove joint and once in place, is sanded and finished. There is a wide variety of species to select flooring from and the right species for a given application will be dependent on numerous factors. Information relating to species selection, environmental assessment, finish selection and recommended maintenance routines are all provided in this section.