23/11/2020 9:15AM
Author: Laurence Ritchie, Cost & Program Estimator, WoodSolutions MAP
Laurence Ritchie of the Mid-rise Advisory Program delves into the opportunities for tall timber buildings in Australia's post-COVID development market.
Timber construction has taken the Australian property sector by storm in recent years, with major institutions striving to walk the walk of sustainable development. This trend has recently taken a serious foothold in the mainstream with a 50 storey composite structure proposed for central Sydney by a partnership of Atlassian (developer), BVN and Shop Architects (architects), TTW (engineer), and Built (builder). However, quickly changing market conditions and external influences may lead one to wonder if this is the best development model for timber construction in the future? Read on to find out more.
In this post, the first of the WoodSolutions Mid-rise Advisory Program's online blog, we will take a closer look into the primary opportunities for mid-rise timber buildings in Australia's post-COVID urban environment. Drawing on the lived experience and expert knowledge within the WoodSolutions Mid-rise team as well as data and analysis from respected third parties, this post considers the potential impacts of the global COVID-19 pandemic on the workforce and how this may reveal an opportunity for mid-rise timber construction.
Mid-rise timber construction is well and truly here to stay, with dozens of significant timber buildings now operational around the country and both local and international supply chains able to supply at a commercial scale and on commercial terms. These supply chains have been busy, with multiple major timber buildings of four or more storeys now either built or at late planning stages across the Country. While this development has taken place over the last decade (with much of it in the last 3-4 years), the current COVID-19 pandemic promises to disrupt the status quo, potentially for the long term.
The local pandemic management strategies have seen approximately 1/3 of Australia's employed population transition to working from home, compared to just 12% (roughly 1/8 of the working population) before March 2020. A key tactic in reducing the spread of the Coronavirus, for many the forced time working from home has changed attitudes to work. Instead of commuting every day, 60% respondents to a recent survey of 1,100 office workers suggested they would prefer to continue to working from home for 2-3 days per week, even once restrictions are eased and some level of post-COVID normality resumes.
So what does this mean for planning, development, and timber construction?
A partial migration of the workforce from CBD desks to home offices presents a raft of new opportunities and challenges for the whole economy, but we'll focus on the development impacts here. For the sake of this post we'll divide development into two sectors: residential, and office.
In the residential sector, a shift to increased remote working means flexibility for many office-based staff. As long as they have a steady internet connection, office-workers can often effectively operate regardless of their location. Before we all start looking at beachside or rural properties though we should note that a longer term preference to spending a few days in the office per week for meetings, workshops, and other activities benefiting from in-person contact may require us to reside within a commutable distance, even if it's further from the CBD than in pre-COVID times.
In this context it is realistic to expect that coming years may see much of the previously inner suburb and CBD based population move further from the city in favour of larger properties (whether apartments or detached) and less pollution, often for the same price or less. Rather than Australia's traditional urban structure of a single highly congested central business district surrounded by a sea of under-populated housing (the 'fried egg' in the graphic below), the working from home landscape sees much of the once city-bound traffic stay closer to home, resulting in a stronger suburban economy. This concept – also championed by Bernard Salt of The Demographics Group - aligns well with the long-discussed '20 minute city' vision in which one's residence, workplace, regularly visited shops, and other facilities exist within 20 minutes travel of each other.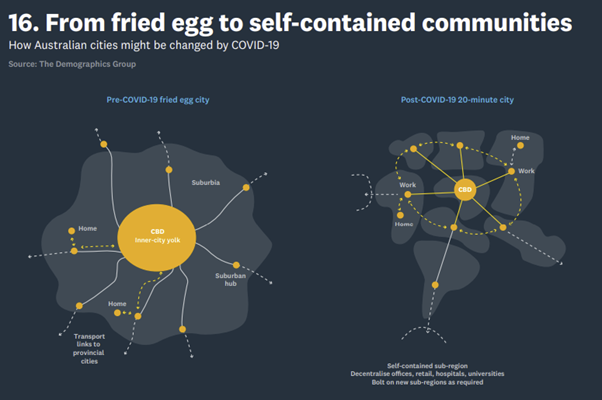 But what does this mean for residential development? Firstly, new home design will change. People working from home will demand a dedicated work space, free from distraction and capable of fitting an ergonomic chair and/or standing desk. In practice this means that homes will increase in size, or at the very least will see previously unused spare bedrooms converted into regularly visited home offices. Improved acoustic separation may be a highly sought-after feature of these spaces, but at minimum some form of physical separation will be required.
While many may seek out a detached dwelling with a garage gym and enough garden for a veggie patch, a portion of the population more accustomed to apartment living (or simply wishing to avoid the maintenance of a larger detached home) may instead opt for town-homes, or even generously sized and conveniently located apartments. This is a clear market opportunity for mid-rise timber construction, where high quality residential units can be built at speed and with minimal disruption to the neighbours (who will probably be working from home throughout the build).
The office sector has also seen major changes throughout 2020. With the workforce ordered to work from home for much of the year, the normally teeming CBD environment was rendered dormant for several months. As restrictions now ease some life has returned, however the mass experiment of working from home has demonstrated the workforce's ability to maintain productivity without an office, rendering an expensive CBD tenancy less appealing to many.
Companies currently renting expensive city-centre offices now have three options:
They can change nothing, maintaining their existing office tenancies,

Realising a reduced demand for desks they can downsize, or

They can relocate to a new, more convenient and cheaper office in the suburbs, closer to their employees.
All three of these options are likely to be actioned by various employers, however the real opportunity for timber lies within the third. Companies following this path will drive an increase in demand of suburban offices and flexible working spaces, leading to a raft of new suburban office projects. These buildings will be limited in height by local codes, resulting in a prime opportunity for mid-rise timber development.
While this post indulges in some speculation, survey data and informed analysis aligns with the key assumptions around working from home and the future of our workplaces. While only time will tell the evolution of our urban landscape, it is clear the lived experience of the office-based workforce throughout 2020 will have lasting impacts. These impacts may result in a reinvigorated and refuelled market for suburban mid-rise construction, a perfect fit for timber construction systems.
If you have a question about this post or would like to learn more about designing or building with timber you can contact Laurence and the rest of the Mid-rise team here, or by email at midrise@woodsolutions.com.au
References:
Australian Bureau of Statistics. (2020). Household impacts of COVID-19 Survey. Retrieved from: https://www.abs.gov.au/statistics/people/people-and-communities/household-impacts-covid-19-survey/latest-release
Siebert, B. (2020). Coronavirus has forced Australians to work from home, but what are the impacts on CBDs?. Retrieved from: https://www.abc.net.au/news/2020-08-18/coronavirus-working-from-home-impact-on-australian-cities/12435248
Ziffer, D. (2020). Most workers want 'hybrid' of home and office after coronavirus, study finds. Retrieved from: https://www.abc.net.au/news/2020-06-23/most-workers-want-hybrid-of-home-and-office-post-coronavirus/12381318
Xero Australia and The Demographics Group. (2020). Rebuilding Australia: The Role of Small Business. Retrieved from: https://www.xero.com/content/dam/xero/pdf/rebuilding-australia-the-role-of-small-business.pdf
---
Stay tuned for the next Mid-rise blog post, written by the MAP's Adam Jones.