Diébédo Francis Kéré was born in 1965 in Gando, Burkina Faso and studied at the Technical University of Berlin. Parallel to his studies, he established the Kéré Foundation (formerly Schulbausteine für Gando e.V.), and in 2005 he founded Kéré Architecture.
His architectural practice has been recognized nationally and internationally with awards including the Aga Khan Award for Architecture (2004) for his first building, a primary school in Gando, Burkina Faso, and the Global Holcim Award 2012 Gold. Kéré has undertaken projects in varied countries including Burkina Faso, Mali, Germany and Switzerland. In 2017 the Serpentine Galleries commissioned him to design the Serpentine Pavilion in London. He has held professorships at the Harvard Graduate School of Design and the Swiss Accademia di Architettura di Mendrisio). In 2017 he accepted the professorship for "Architectural Design and Participation" at TU München (Germany).
Kéré continues to reinvest knowledge back into Burkina Faso and other sites across four different continents. He has developed innovative construction strategies that combine traditional building techniques and materials with modern engineering methods.
Projects on Woodsolutions
Grid View
List View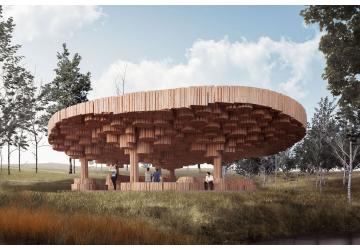 The Gathering Pavilion
A meditative log pavilion to be built amongst the Tippet Rise Arts Centre in the mountains of Montana, inspired by traditional West African shelters.
View this Case Study