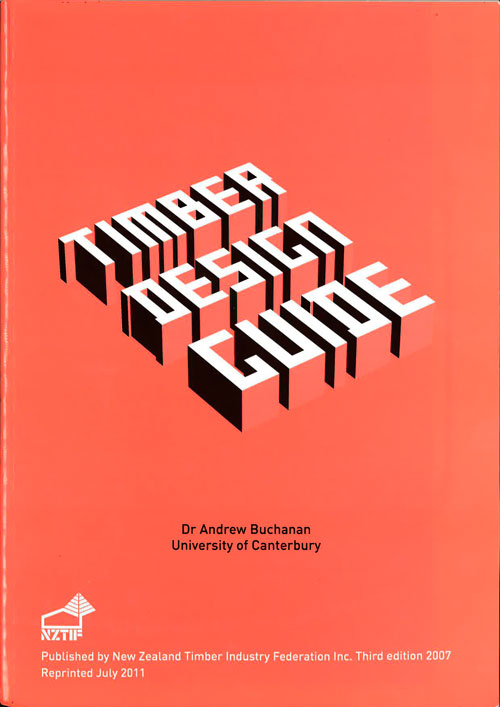 Title: Timber Design Guide
Author: Dr Andrew Buchanan
Size: A4, 331 pages
Publisher: New Zealand Timber Industry Federation Inc.
AVAILABLE FROM:
http://www.nztif.co.nz/news-and-publications/publications/timber-design-guide/
A useful professional resource 
Book: Timber Design Guide, reviewed by Amy Cook (http://www.timberpost.com.au)
The latest edition of Andy Buchanan's Timber Design Guide is a technical body of work which explains basic timber design and also delves into pioneering methods in massive timber construction. The text is aimed at engineers (sample calculations are included), however architects will learn about the possibilities of which a timber framed building is capable.
The difficulty of the content is suited to senior tertiary students and young professionals as well as experienced engineers and architects who can flip to the later chapters. The author is more than qualified to share his knowledge as a renowned expert in his field who forged research into multi-story and large-span timber construction methods. His current position is Professor of Structural Timber Design at the University of Canterbury, Christchurch.
The book is split into five sections:
Timber Structures
Timber Materials
Building Behaviour
Member Design
Connection Design
The first two parts systematically describe types of engineered beams and is a must-read for students. Architects can learn practical design aspects from section 3 which covers durability, treatment, finishes, fire and acoustic performance. Section four and five is where those experienced with timber can really sink their teeth into. Section four teaches difficult methods such as portal frames, multi-story timber (including unavoidable design limitations), and flooring systems for large spans (cassettes, CLT, and concrete composites). Lastly, section five explains simple nail, screw, and bolt connections and finishes with a generous explanation and sample calculation of bespoke epoxied dowels. It is important to note that calculation examples follow New Zealand standards but are easy enough to translate to the Australian code.
Andy uses a practical, simple language with some technical vocabulary and a multitude of photos and diagrams to break up the text. The book is overall easy to navigate thanks to the index and subheadings. Hard copies are available for purchase from the New Zealand Timber Industry Federation website for NZD$94 including postage.