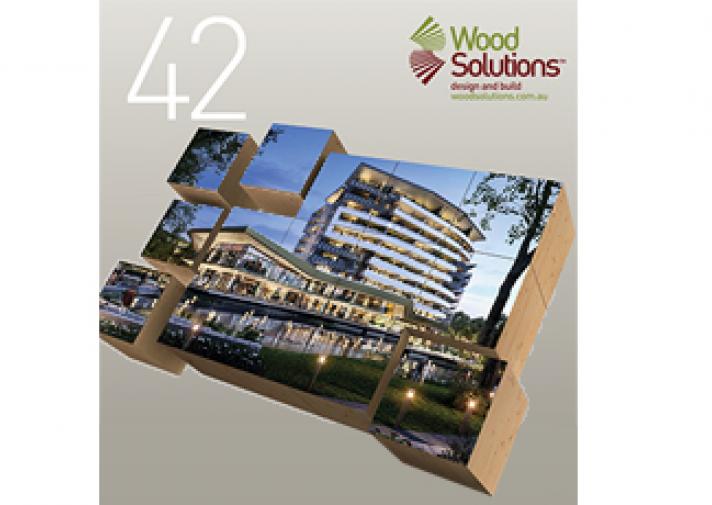 New guide provides timber design and construction solutions for aged care accommodation
---
Australia's ageing population is increasing the demand for aged care facilities and timber building systems have the potential to deliver significant construction cost savings. However, many people involved in design and construction lack the experience and knowledge required to gain the benefits that timber can deliver. This new WoodSolutions Design Guide provides timber-based design and construction solutions that meet the requirements of the Building Code of Australia (BCA).
Owing to increased life expectancy, Australia's ageing population is growing and driving demand for new aged care accommodation. The Aged Care Financing Authority reported that "an additional 74,000 new beds will be required over the coming decade to meet the needs of an ageing Australia".
Aged care (Class 9c) buildings are generally low to mid-rise in height making them ideally suited to timber construction. The regulatory requirements for this building classification differs from apartments (Class 2) and hotels (Class 3) which are covered in other WoodSolutions Guides.
The new Guide 42 – Building Code of Australia Deemed to Satisfy Solutions for Timber Aged Care Buildings (Class 9c) provides information and options to comply with the BCA, using timber structural systems for Class 9c buildings. It covers fire and acoustic requirements and provides timber-based design and construction solutions.
"Guides 42 and 28 Rethinking Aged Care Construction – Consider Timber with an essential toolbox that will support developers, designers and builders understand how building in timber translates into time, cost and sustainability efficiencies. Not to mention the health benefits." said Eileen Newbury, WoodSolutions Program Manager and National Marketing and Communications Manager for Forest and Wood Products Australia.
From a design approach, Guide 42 presents three distinct timber buildings solutions: lightweight timber frames, post and beam and solid timber panels (such as Cross Laminated Timber or Laminated Veneer Lumber).
"We are in a period of constant rediscovery, where theoretic and empirical evidence support the benefits of building with timber. With an engineered timber retirement village close to completion, I am hoping Australia will lead the way into building timber solutions for aged care accommodation", Ms Newbury continued.
The new Guide and the rest of the 40+ titles in the WoodSolutions Design Guide library are available for free download here.