WoodSolutions: Construction in Bushfire-Prone Areas Seminar **POSTPONED**
Tuesday, March 31, 2020 - 12:30

Library at the Dock Docklands
---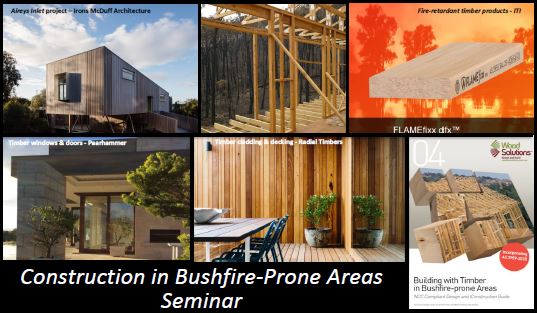 Date
Tuesday 31st March 2020
 
Venue
Library at the Dock
Docklands
 
Time
12.15 pm registration
for 12.30 - 5.00pm
 
CPD
4.0 Informal CPD points
available for attendance
 
Cost
$30.00 (GST included)
RSVP early – limited places
 
Registrations close
Friday, 27th March 2020
The devastating national 2019/20 wildfires have provided a dramatically clear reminder once again about Australia's harsh and unforgiving climate, and that when we build in the bush, it needs to be done correctly and to the latest bushfire requirements.
Designing to 'build out' bushfires requires minimising the risk of ember, radiant heat and even flame damage. With appropriate design decisions you can create a safe and desirable home which includes the use of sustainable and renewable timber products both inside and out.
This seminar brings together a selection of leading industry experts in this field to present and discuss:
Victoria's bushfire-prone area designations, planning requirements and processes post the 2019/20 fires,
how to accurately determine your Bushfire Attack Level,
designing buildings to AS3959 and where timber products can be utilised,
Key architectural design approaches for new and existing homes in bushfire prone-areas, and
some of the innovative and compliant timber window, doors, claddings, deck products and fire retardant timbers available for use in different BAL's.
Speakers will include:
Darryl O'Brien, Director Technical and Regulation at the Victorian Building Authority
Maria Kornakova, Bushfire Services Coordinator, Fire Protection Association Australia
Boris Iskra, National Codes and Standards Manager, Forest & Wood Products Australia
Kim Irons, Director, Irons McDuff Architecture
Chris McEvoy, Director, Radial Timbers
Tony Paarhammer, Director, Paarhammer Windoes & Doors
Ron Moon, Director, Wood Modifications Technologies, ITI
An update will also be provided on the WoodSolutions program and the suite of support resources now available to building professionals.
This seminar is a must for all building and design professionals!