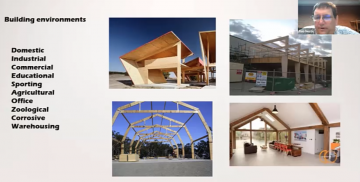 Submitted by

100content@gmail.com

on Tue, 02/02/2021 - 17:28
Timber portal frames are one of the most favoured structural applications for commercial and industrial buildings requiring long spans and open interiors. Timber portal frames offer a strong, sound and superior structure. Structural action is achieved through rigid connections between column and rafter at the knees, and between the individual rafter members at the ridge.
Timber portal frames have applications from small size structures to large span single-storey buildings. Often overlooked for low-rise buildings, timber portal fames offer many benefits, such as ease of installation, readily available materials and lower costs.
The webinar's presenters are the experts in their respective field; George Dolezal has developed a domestic portal frame system that is ideal for a high lateral situation in low to mid-rise buildings. Rob Nestic on the otherhand, has tremendous experience in large portal frames, seen with the 20,000 m2 industrial shed designed for Meyer Timber in Penrith, Sydney.
Series
Occasional Thursday free webinar series on selected timber topics